Migoland
Talk

0
164pages on
this wiki
Migoland  is a virtual world, aimed at children aged from 9 to 13, created by the Playdo AB . Migo Land provides online adventures and games through internet technology. It was launched in 2010, as the successor of Spineworld. It received negative reactions and ratings because of it's lack of features and of it's art being childish.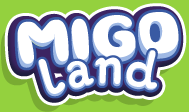 You create your own avatar which you can customize. When the game is played for the first time, the avatar is completely randomized,and you also get 6000 coins. You walk around and chat with friends,play games and decorate your own house, which you can throw parties in. You can also go to the hospital and become a nurse or a patient, or go to the one of the restaurants and become a cook or guest. BRING BACK SPINEWORLD!!!!
The houses are like Spineworld's Apartments. Users can choose what their house can be, such as a country house, a castle, a pirate ship, a restuarant or a hospital, which comes in many different sizes and colors. They can also hold parties here, furnish their houses, or visit friends' houses.
There are many shops. There's WARDROBE-where you can pick you clothes to wear,hairstyles,skin color,and much more! Then you have the shop to edit your country house or castle house which includes furniture such a chairs,beds,rugs,lamps,tv's,computers and more.Then there's one last shop EMOTIONS and POTIONS/FIREWORKS.In this shop you can buy faces that you can do potions that go up in the air and make stuff like fireworks.That's all the shops thanks for reading!!!! =) ;)
The games in Migoland include:
The currency in Migoland is Pocket Money. They are used to buy various clothing and furniture. You can also use your pocket money for buying rockets, emoticons, perfumes and such.