Steam Car Racer
was a racing game on
Spineworld
where the player must complete five laps of a race track in the shortest time trying to beat the other Steam Car players. This game could be played by going to
Steam Minitor
at Dragon Port and he would teleport the user to the game in the
Meyan Jungle
, or the user could talk to
Racing Minitor
in the Meyan Race Stadium in the Meyan Jungle, or the user could teleport to the stadium using the game button. This game was also featured on
Migoland
, before Playdo deleted it, the reason why is unknown. Steam Car Racing could be accessed via the games button, but the Members only racetracks could be raced by anyone.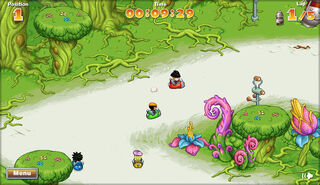 Up Key/Space - Accelerate
Left Key - Turn Left
Right Key - Turn Right
Down Key - Break/Reverse
P Key - Pause
Spacebar - Horn/Honk
Temple Ruins
Temple Ruins Reversed
Jungle Run (Members only)
Jungle Run Reversed (Members only)
Multiplayer
Edit
Multiplayer was a special feature in the game where the user can race against other members. The user could either join a game or host a game. To join a game, look for any game that is available in the list and click on it. If there wasn't any available games or the user wants to start a game, then choose your race track and wait for more players. There could be 2-4 players in a game.
It is very easy to run off the track in this game. Try to turn just a little bit early at the right time.
1st Place: 40 Coins
2nd Place: 33 Coins
3rd Place: 26 Coins
4th Place: 19 Coins
Steam Car Racing; source files (hosted on Mediafire): http://www.mediafire.com/download/wb1qycvvpedf5uq/racer10.dcr
Ad blocker interference detected!
Wikia is a free-to-use site that makes money from advertising. We have a modified experience for viewers using ad blockers

Wikia is not accessible if you've made further modifications. Remove the custom ad blocker rule(s) and the page will load as expected.